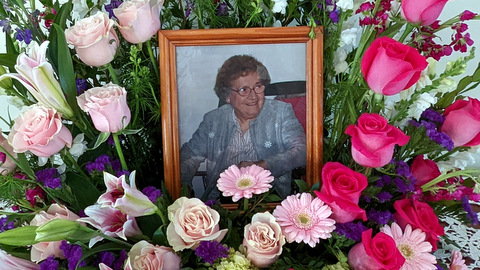 The Funeral
(after delay)
---
Reflections By Family and Rev. Files
---
Below is from her daughter Denise on the day her mom passed (01/16/2022):
Mom passed away peacefully today surrounded by her loving family. She was a member of the First Church Pembroke parish from 1979 to 2022 even though through COVID restrictions she was unable to attend services. She was the choir director for many, many years and played the organ quite often. She was the co-founder and first treasurer of the Church Second Hand (Thrift) Shop. She was also always eager to sell tickets for the Old Home Days Fair. She is survived by her husband of nearly 67 years, Benito, children Denise, Peter, Tom and Mark and five grandchildren and 3 great grandchildren.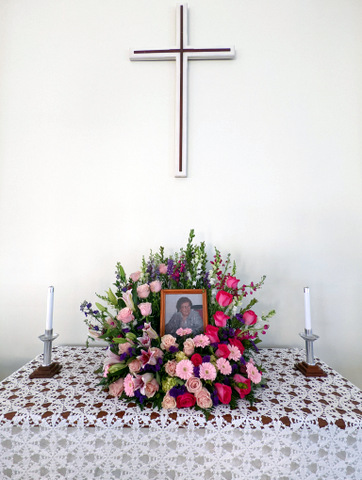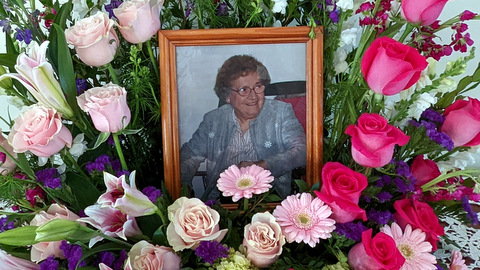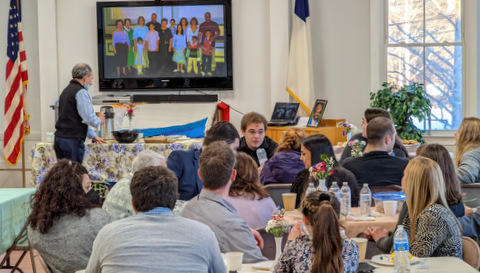 ---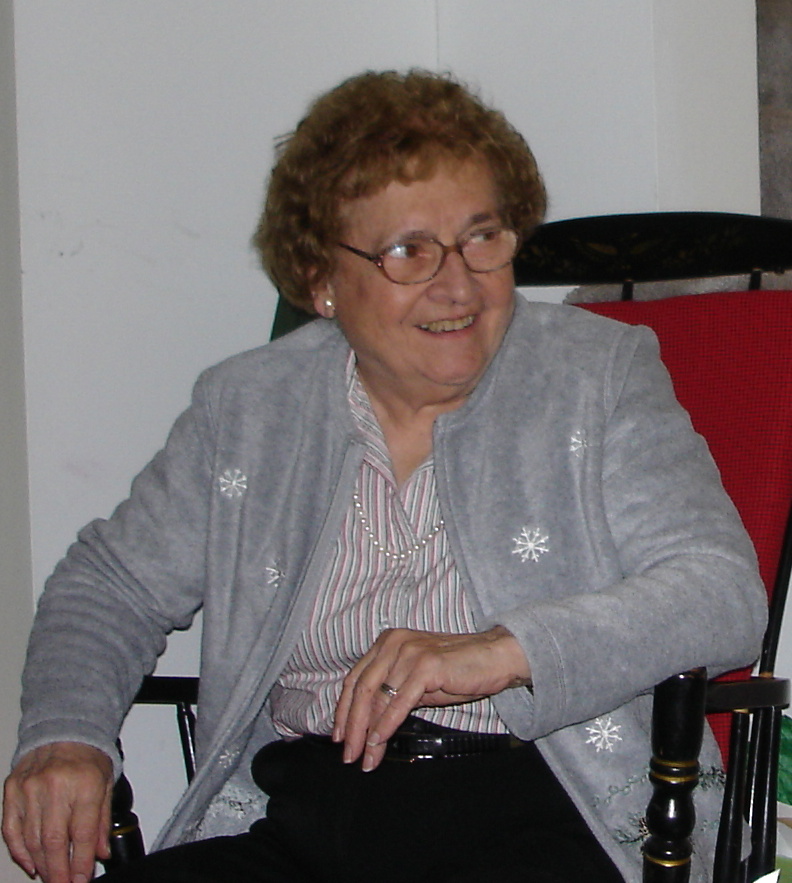 Please visit our FaceBook page (click on picture below):
The following is from the Echovita Obituary site.
Jane Eckler Natale June 3, 1930-January 16, 2022
Jane Natale, 91, of Pembroke, MA passed away peacefully, after a brief illness, surrounded by her loving family. She was born in Glens Falls, NY to Marjorie (Stevens) Eckler and Clarence Eckler. Jane was a 1948 graduate of Glens Falls High School and a 1950 graduate of Becker College in Worcester, MA with a degree in bookkeeping. Her first job was with the Glens Falls Insurance Company.
Jane married Benito (Ben) Natale on May 15, 1955 in Hudson Falls, NY. The family moved to Schenectady, NY in 1956 when Ben began work for the General Electric Company. He was treasurer of the GE Arc Weld Federal Credit Union, and they did all of the bookwork together. Jane was a member of the Emmanuel Baptist Church in Schenectady and sang in the church choir, occasionally playing the organ. Family always took priority over any other obligations, and they took raising their growing family very seriously.
When Ben took a job with General Dynamics in Quincy, MA in 1978, they moved to Pembroke to start the next chapter of their lives. Two of their children had finished college by then and had jobs in New York. The family of four integrated themselves into life in Pembroke. Jane began working for the Bay Colony Visiting Nurse Association as a bookkeeper and stayed until her retirement in 1993. She joined First Church in Pembroke as a member of the choir and soon became the Choir Director and often the organist, once her talent was discovered. She retired from her job as Choir Director three times, because they could not find a suitable replacement for her. Jane understood music and could make the organ sing with the emotion of the music she played. She was also a member of the Fine Arts Chorale, giving an annual concert in Boston. How she loved music!
Jane and Ben always loved dancing. They began their square dancing and round dancing hobby in earnest when they moved to Massachusetts, as their child-rearing days had come to an end. They started dancing with a group at First Church and went on to join the Nautical Twirlers of Bourne, Charlie's Rhythm Ramblers in Wareham, and the New England Square Dance Association. She and Ben traveled all over the United States several times a year attending weeklong square dancing conventions, where they danced morning, noon, and night. They also enjoyed taking cruises, managing to cover both coasts, as well as Hawaii, Alaska, and the Panama Canal. Everything they did, they did together and/or with family.
Jane is survived by her husband Ben, of nearly 67 years; children Denise Natale, DC of Proctorsville, VT, Peter (Gail) Natale of Schenectady, NY, Thomas (Barbara) Natale of Alton, NH and Mark Natale of Hanover, MA; grandchildren Dana (Michael) Walton, Jason (Danielle) Natale, Ashley Natale, Kelcie Natale, and Gabi Natale; and great-grandchildren Aria and Benjamin Walton and Austin Natale. She was predeceased by her two younger sisters, Caryl Eckler and Nancy Holmes.
Her passing has left a large hole in many hearts, and yet we know that she is where she should be; we are grateful that she did not suffer. As Ben said, "She earned her just reward."
A memorial service will be held at 2:00pm on February 5, 2022 at First Church in Pembroke, MA with refreshments following the service.
In lieu of flowers, donations may be made her memory to First Church in Pembroke, P.O. Box 576, Pembroke, MA 02359 for the Second Hand Shop.
---