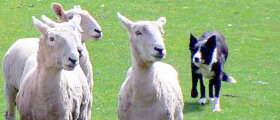 "THE GOOD SHEEPDOG" Rev.Terry Martinson

PRELUDE
MEDITATION PRAYER
Lord, bless us with a reverent sense of your presence, that we may be at peace and may worship you with all our mind and spirit; through Jesus Christ our Lord. Amen.
ANNOUNCEMENTS
CALL TO CONTEMPLATION How Great Thou Art
CALL TO WORSHIP* (in unison quietly)
Little ones and strong ones,
Praise the Lord.
Old ones and new ones,
Sing out your joy.
Short ones, tall ones, and those in between,
Give thanks to our Maker.
Happy ones, sad ones and those dizzied by the pace of life,
Bless our God who knows all our days.
All you gathered in this holy place,
Sing and praise our God.
PRAYER OF INVOCATION* (in unison quietly)
Loving God, give us open hearts, as open and eager as a toddler's first steps.
Give us open ears, that we may hear your words fresh and wild, comforting and challenging us.
Give us open hands, ready to receive a blessing and willing to offer gentle care.
Loving God, show us the depths of your grace in these precious moments and in your Holy Word. Amen.
SCRIPTURE READING John 10:11-18
SERMON THE GOOD SHEEPDOG Rev.Terry Martinson
MUSICAL REPONSE My Shepherd Will Supply My Need
OFFERTORY INVIATION* (in unison quietly)
Christ has taught us that we cannot love both God and wealth. Our hearts will always be focused first on our riches. Let us be faithful stewards of our time, our talents, and our money, so that our treasure is in heaven and our giving pleases God.
PRAYER OF DEDICATION* (in unison quietly)
A TIME OF SILENT PRAYER
PASTORAL PRAYER
THE LORD'S PRAYER
MUSICAL RESPONSE TO PRAYER I Am His, and He is Mine
BENEDICTION
POSTLUDE Great Is the Lord