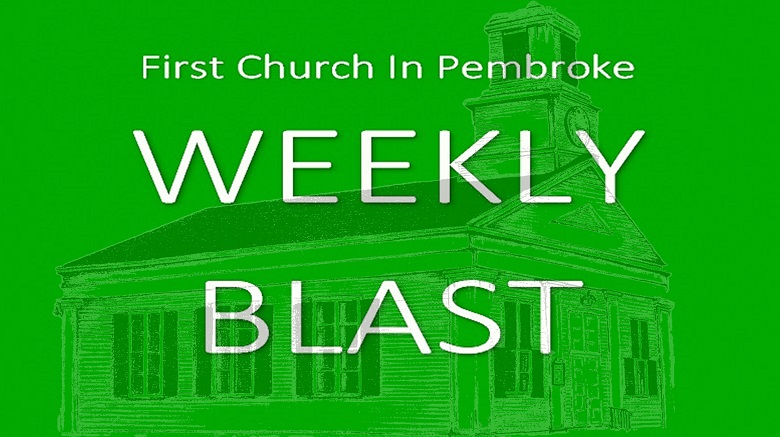 General Information for January 2023
Please consider coming or joining one of the monthly Committee Meetings. Committee Meetings are all available on Zoom.  For more information, please visit our website.
The Nomination Committee would like to remind all that First Church needs everyone's help to make our Church the Beacon of Pembroke! Please consider joining a Committee! If interested, please see the Nomination Committee: Gail, Marge, or Bonnie.  You can also chat with one of the Chairs of the Committee that you are interested in joining during our Fellowship. 
Have you returned your pledge cards yet? If you have not had an opportunity, please do so.  The Pledge cards are used to help put together the budget for the upcoming year. Many thanks and blessings to all. Let us work together to make our church shine even more brightly as a welcoming beacon to all.  You are the light of the world. 
The 2022 Financial Statements will be mailed by January 31, 2023. If you have a change of address, don't hesitate to get in touch with Francine at 781-293-2584 so she can update Breeze. 
The 2023 Offering Envelopes have been ordered and will be available by the end of January.  Francine will advise when they will be distributed. 
First Church in Pembroke Monthly Meetings for January  2023
Trustees: will meet on Tuesday, January 17, 2023, in Fellowship Hall at 6:00 pm. The Trustees meet on the third Tuesday of each month before the Council Meeting. This meeting is available via Zoom. Please visit Firstchurchinpembroke.org for the Zoom link.
Council: will meet on Tuesday, January 17, 2023, in Fellowship Hall at 7:15 pm. The Council meets on the third Tuesday of each month. This meeting is available via Zoom. Please visit Firstchurchinpembroke.org.
CNK Staff will meet on Monday, January 23, 2023, in Fellowship Hall at 2:30 pm. The CNK Staff meets on the third Monday of each month. 
Missions: will meet on Tuesday, January 24, 2023, at the Church at 11:00 am. Missions meet on the fourth Tuesday of each month.
On-Going Information
Flowers for the Sanctuary: The flower signup sheet can be found outside the Deacons Closet. Please call the office and leave a message if you are interested in ordering flowers for a Sunday Service. Flowers are a beautiful way to remember a loved one and celebrate a birthday, anniversary, or occasion.
Sunday Fellowship: Thank you to all who either brought a food item or signed up to bring one in. Please remember that these items can be store-bought. Your generosity is appreciated. A signup sheet for this is in Fellowship Hall.
First Church in Pembroke Steeple Lighting: If you would like to light the Steeple for any special occasion, you can contact Joellen Graham via the FCIP Facebook page.
First Church Office Hours: The office will be open on January 17-19,  2023, from 8:00 am. to noon. Do not hesitate to contact the church office at 781-293-2584 and leave a message. Your call will be returned as possible.
Thrift Shop Hours are Friday & Saturday from 11:00 – 3:00 pm. Spread the word about Pembroke's hidden gem. Tell your family and friends. Why pay retail prices? New inventory arriving weekly. 
Please visit First Church in Pembroke's Webpage: firstchurchinpembroke.org or the Facebook page "First Church in Pembroke" for the most current information. Thank you to JoEllen Graham and Jay Hodge for keeping both sites current. Do not forget to join any Zoom meeting by going to firstchurchinpembroke.org. Jay has posted step-by-step instructions and a printable flyer to follow, so there is no reason anyone cannot find out what is happening at our Church.
---